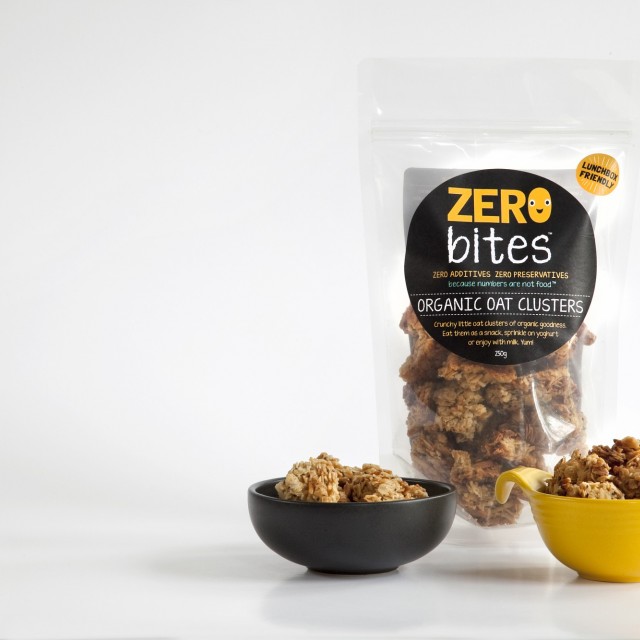 About
Based in Melbourne, we're a family owned Australian business making certified organic and kosher snacks that are vegan friendly. Lovingly handmade in small batches and minimally processed, our snacks are timesaving and worry free!
Zero Bites was created after our youngest child was diagnosed with food allergies. It was tricky enough avoiding food allergens, but scrutinising labels made me realise how many additives and preservatives were lurking as 'numbers' in the foods I fed my kids. I searched for a numbers free lunchbox friendly snack that was safe for my daughter, easy for me and yummy and satisfying for the whole family. When I couldn't find what I was looking for, I started making my own. After much experimentation, I created yummy oat clusters from a delicious blend of organic ingredients combining oats, coconut and chia. These crunchy little bites of goodness not only tasted amazing, but were filling and versatile too. They quickly became a family hit and we eat them as a snack, sprinkled on yoghurt or with milk and fruit for breakfast.
Zero Bites Organic Oat Clusters are perfect for kids' lunchbox snacks - pop in a few to fuel them throughout the day! Our snacks are not only irresistible straight from the pack, they are also versatile as; - a portable breakfast - with a cuppa - topped on fruit - sprinkled on yoghurt - dusted over ice-cream - on top of smoothies - in smoothie bowls - enjoyed with milk as a cereal.
How to order?
Via email or enquire via website.
Minimum order?
For wholesale orders 1 box (i.e. 12 packets)
Deliver to?
Yes, Zero Bites delivers to !
Sorry, Zero Bites doesn't deliver to .
Contact
PO Box 6085
Caulfield South 3162 Vic
Email: hello@zerobites.com.au
Website: https://www.zerobites.com.au/

Dietary Categories
Dairy Free, Vegan